Natural Oils, Naturally Produced

All of our pure, plant based oils are made of locally grown ingredients and handcrafted and bottled by our company in Hawaii. Most conventional cosmetic-grade oils are heavily processed at very high temperatures and with harsh chemicals to extend the oil's shelf life – these refined oils are bleached and deodorized, resulting in clear, odorless oils that are almost devoid of nutrients. In contrast, our production is an all-natural, physical process that maintains the natural properties of the ingredient with no additives or preservatives.
Macadamia Nut Beauty Oil
Macadamia nut oil is known for its quick absorption while nourishing the skin to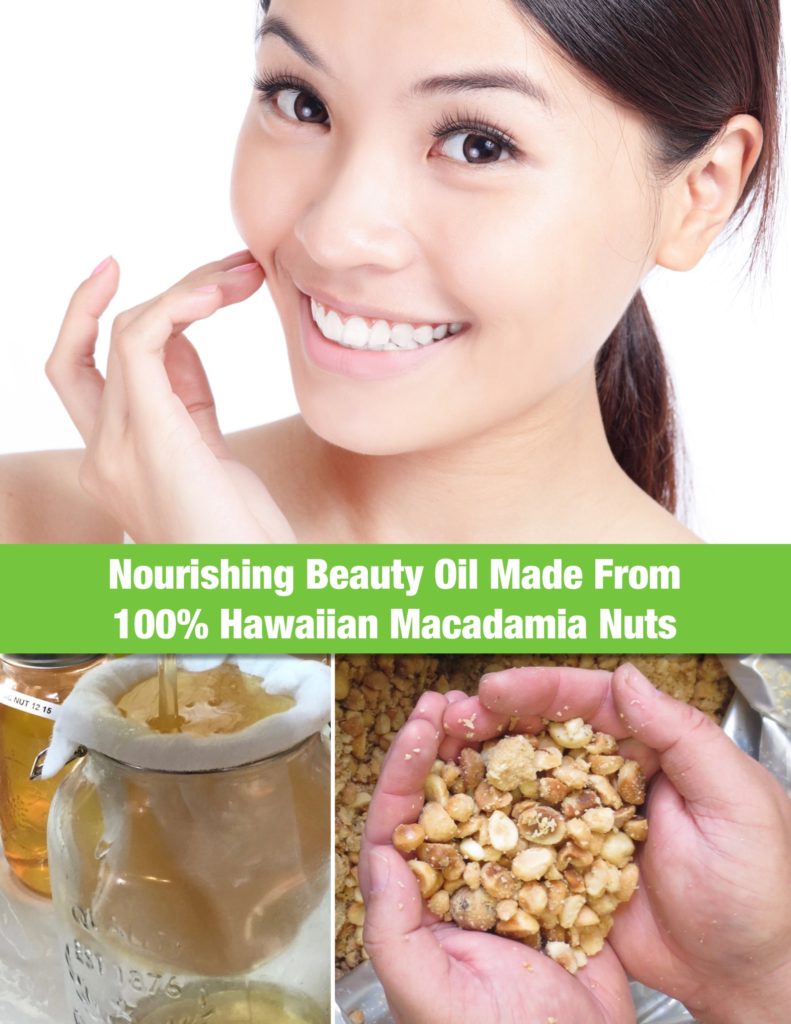 help reduce the appearance of fine lines and wrinkles. It helps soften and smooth skin. With a chemical profile very similar to the sebum produced by the human body, Macadamia nut oil contains nearly 19% Palmitoleic Acid (the Omega 7 Fatty Acid secreted naturally by the skin that makes the skin plump and dewy; it diminishes with age). Macadamia Nut Oil is the only widely available, plant-based oil with such a high concentration of Palmitoleic Acid. 
Pure, Natural Plant Oils

All Locally Grown

Handcrafted in Hawaii

Made as part of community- based sustainable agriculture model of clean energy, food and "Farm to Face" products!
Benefits of Macadamia Oil for Cosmetics
Lightweight moisturizer for hair and skin
Extremely nourishing, especially for dry, rough and maturing skin; reduces appearance of wrinkles and fine lines; restores and regenerates; soothing to the skin
Non-greasy and does not clog pores
Highly polar oil that enhances solubility; reduces separation in emulsions
Excellent emollient & moisturizer (85% unsaturated)
Extremely stable against oxidation
Absorbs rapidly and deeply; excellent carrier oil and ideal for massage and spa treatments
Supports Cosmetic Industry Trends = Beauty Oils + Natural Products
Maui Sunflower Beauty Oil
Our company began farming sunflowers and other crops in Maui's central valley in 2017. The Maui sunflowers have become one of our island's hottest attractions. This season they'll be featured in farm tours, used to create an all-new line of locally made culinary oils for Hawai'i's chefs, and blended into premium "farm to face" cosmetic oils for Hawai'i's spas including our company's new Kuleana® beauty oils, cleansers and reef-safe sunscreen.
Benefits of Sunflower Oil for Cosmetics
Soothing and calming moisturizer, especially good for sensitive skin
Anti-inflammatory; reduces appearance of redness
Light and non-greasy
Nourishing; rich in linoleic fatty acid (Omega 6) and Vitamin E (antioxidant)
Excellent emollient; helps skin retain its moisture