Our Story
Our natural Sunflower oil, Macadamia oil and other natural oils and plant extracts are made with locally grown ingredients and produced and bottled in Hawaii.

Our company was created by Pacific Biodiesel, Hawaii's award-winning and internationally recognized producer of renewable fuel that recycles waste cooking oils from restaurants statewide for use in the production of its clean, locally made biodiesel.
Pacific Biodiesel established and operated the very first retail biodiesel pump in America and for the past two decades has built a solid reputation as a leading pioneer in the renewable energy industry. With a nameplate capacity of 5.5 million gallons annually, our refinery on Hawaii Island utilizes state-of-the-art distillation technology to produce the highest quality biodiesel in the USA.
As the demand for sustainable biodiesel began to exceed the amount of waste cooking oils produced in the Hawaiian Islands, our founders looked to agricultural products to supplement the existing feedstock. Their crushing mill next door to the biodiesel plant allows for the extraction of oil from many different beans, nuts and seeds. In 2015 our company began collecting excess macadamia nuts from local macadamia nut processors. After learning that these nuts were being discarded on Hawaii Island, we offered to buy these nuts and process them into biodiesel. As our team learned more about this oil, we realized its many healthful benefits for hair and skin so we began producing the oil into a premium beauty oil. And that's how Maiden Hawaii Naturals was born. In 2017, our founders began sustainably farming the now-famous Maui Sunflowers (pictured below) and are also now farming industrial hemp.
Today Maiden Hawaii Naturals, LLC produces premium culinary oils for Hawaii's chefs and the Kuleana® line of natural cosmetic ingredients and beauty products.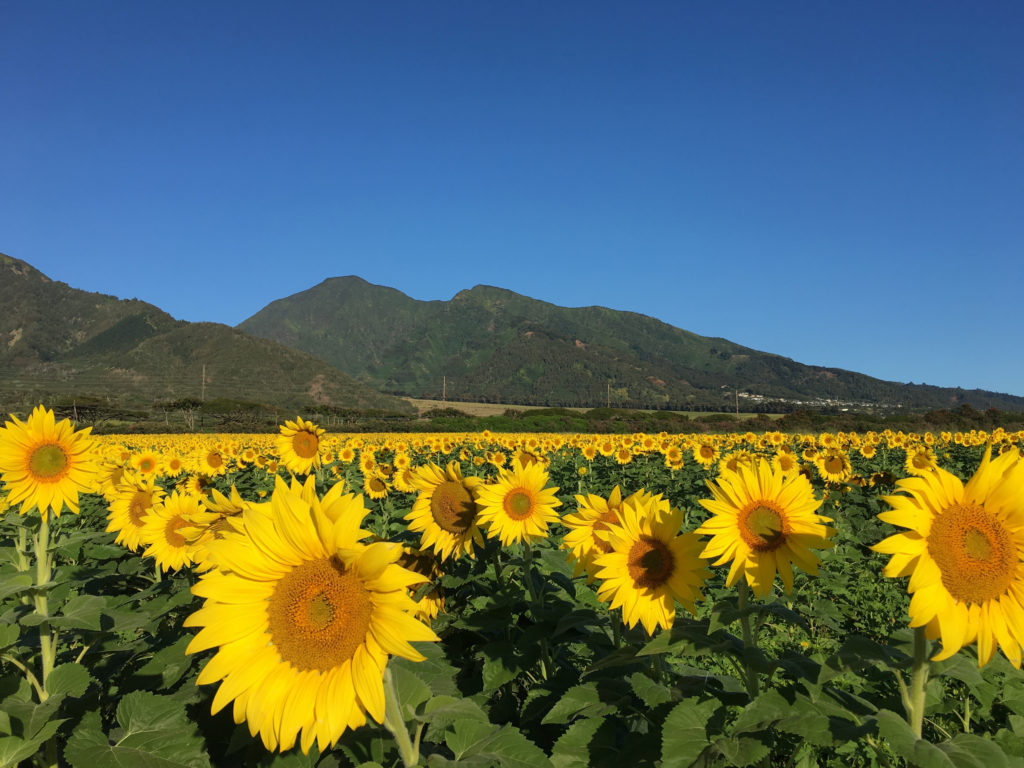 Kelly King Featured by Women Farmers Network
May, 2021  An informative video produced by Oʻahu Resource Conservation and Development Council for their Women Farmers Network features Pacific Biodiesel Co-Founder Kelly King as a local leader in regenerative agriculture. In this video, Kelly discusses the company's "sustainable agriculture and renewable energy" model that's making a positive impact here in Hawaii.
Oʻahu Resource Conservation and Development Council stated, "In addition to stressing the importance of using renewable energy, equipment to conserve water and improve crop infiltration, and recycling of resources, Kelly is a big advocate for increasing plant and soil biodiversity through cover cropping. She points out how this is a particularly important step towards improving soil health as Hawaii transitions from a predominantly monoculture to a diversified agriculture system. Kelly's company is recycling used cooking oil into a valuable commodity and supplying restaurants with high-quality culinary oils grown from their sunflower and other crops."
This Women Farmers Network video is shared with permission by Oahu Resource Conservation & Development Council. To learn more, visit www.OahuRCD.org.