Recipes from Hawaii's Top Chefs
The recipes below, featuring our locally made, premium Hawaiian Macadamia and Maui Sunflower Culinary Oils, were created by some of Hawaii's top chefs and graciously shared for you to enjoy. To view the recipes below, click the titles – or to download a complimentary PDF with all recipes click here.
We'd love to hear your feedback or other recipe ideas that feature our flavorful, expeller-pressed culinary oils. Please share comments with us on social media @maidenhawaiinaturals or email us info@maidenhawaiinaturals.com.
Hawaiian Macadamia Oil Recipes
Spring Kale Salad, Lee of The Rogue Brussel Sprout
Lasagna Style Luau Stew, Mele Kalama-Kingma
Macadamia Ice Cream and Brittle, Chef Carol Wallack
Fruity Brunch Salad, Lee of The Rogue Brussel Sprout
Kona Kanpachi Poke Bowl, with Yuzu Limu Vinaigrette and Macadamia Nut Rice, Chef Ron Miller
Roasted Cabbage, Chef Lee Anne Wong
Macadamia Nut Pesto, Chimiko Fukui
High Protein Mac Nut Bread, Moku Roots
Mac Nut Champagne Vinaigrette, Chef Matthew Egami and Leeward Community College
Maui Mac Nut Aioli with Spicy Red Chili, Chef Dean Louie and UHMC Culinary Arts
Macadamia Nut Chimichurri, Chef Steve Nakata, Kauai Community College Culinary Arts
Herb Crusted Kauai Shrimp over Quinoa Salad, with Macadamia Nut Oil Calamanci Dressing, Chef Steve Nakata and KCC Culinary Arts
Macadamia Nut Creme Puff, Chef Taylor Ponte
Macadamia Dressing, Chef Taylor Ponte
Maui Sunflower Oil Recipes
In Their Own Words – Chefs Tell Us Why They Prefer Maiden Hawaii Naturals

Executive Chef Taylor Ponte – Chef/Owner Kamado Maui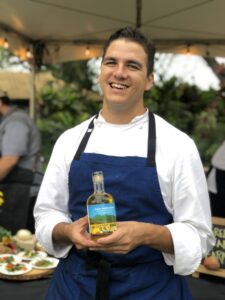 "I love the color and flavor of the Maui Sunflower Culinary Oil. It has a great smoke point and is versatile to cook with. It has a nutty flavor, finishes nice and round with high aromatic notes of alfalfa. This oil reminds me of Spring. The oil has great viscosity and mouthfeel. I also like the fact that it's from Maui and it's sustainable. When I visited the Pacific Biodiesel farm and saw the blooming sunflowers, the first thing you definitely realize is that the color of the petals compared to the actual finished product are very similar. When you walk through the sunflower field, it's sensory overload. You can really understand where this product is coming from. You're smelling sunflowers, smelling that nutty richness. It's almost as if you're inside the bottle."
Chef Carol Wallack – Private Chef
"I love the Hawaiian Macadamia oil for vinaigrettes! It's delicious with fish as it's light with a fresh nutty flavor. Works great with pork as well. I prefer it in a cold (or room temperature) application as I feel you get more flavor from the oil. The Macadamia oil was perfect in an ice cream; I made a Macadamia Nut ice cream that is divine."
Executive Chef Tylun Pang – Kō Restaurant at Fairmont Kea Lani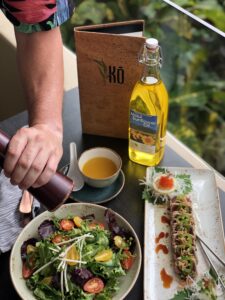 "To find an ingredient on Maui that is not only good in flavor but is also grown sustainably – is so exciting. At Fairmont Kea Lani, we're very conscious of what we bring in, where it comes from and the footprint it leaves on our planet. We want to make sure that it gets to us in its cleanest, freshest form so we can use it and get it to the table. We make sure that we go out and find these 'farm to table' local ingredients and stay on top of all the activity that is taking place in Maui's agriculture. We use this cold-pressed Maui Sunflower Oil in our fresh dressings and stir fry dishes that we do for the restaurant. It's light and it's flavorful and it actually doesn't mask any of the local ingredients. It's like gold in a bowl. I actually think it's our Maui Sunshine. We call this Maui EV SO – extra virgin sunflower oil. A good cold press oil doesn't have much shelf life so it's a living ingredient. You have to use it, you can't leave it on your shelf; you have to use the oil."
Award winning Executive Chef Tylun Pang has enthusiastically integrated our Maui Sunflower Oil into several menu items, including the passion fruit vinaigrette featured in his signature Mauka Harvest Salad shown here, as well as a drizzled finishing oil on the Sesame Ahi Tataki.
Dane Distort, Head Bartender & Sustainability Coordinator – The Mill House
"We incorporate a few tablespoons of the Hawaiian Macadamia oil per quart of our freshly made guava jelly used in our Waikapu Planters Punch Cocktail. I like how it provides a delicate nutty flavor and gives the cocktail a silky texture. It's nice because commonly products made with nuts are made using heat, but I prefer the lighter, brighter notes found in this macadamia nut oil, to other darker toasted ones."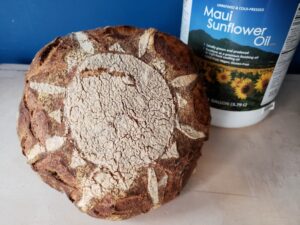 Wesley Ervin – Sundog Bread
"Everybody loves the sunflower loaves. The combination of your Maui Sunflower Culinary Oil with the toasted seeds rounds everything out perfectly! We love this oil's well-rounded flavor, versatility, high-smoke point, and sustainability. When incorporating the oil in breads to showcase its nutty characteristics, the product shines through. Simultaneously, it's able to be a background inclusion as a more neutral oil in smaller quantities in other breads and rolls. We also love using it as a non-stick for all of our sheet trays and bread pans. Its high smoke point allows us to bake very hot while not producing any off flavors, maintaining the integrity of the crust. Currently, we're using it in our sunflower sourdough, onion rolls, and other sandwich buns."