Locally Made, Premium Culinary Oils
All of our plant-based oils are made of locally grown ingredients and handcrafted and bottled by our company in Hawaii.
Conventional cooking oils are heavily processed at high temperatures and with harsh chemicals to extract the oil and extend the shelf life; these refined oils are clear, odorless and depleted of nutrients. Our oils are produced naturally: we mechanically press the nuts and seeds at low temperatures with no additives or preservatives, retaining the oil's nutrients, flavor, aroma and color.
Our company was created by Pacific Biodiesel, which recycles waste cooking oils from restaurants statewide for use in the production of biodiesel. Now our locally made cooking oils will be offered to Hawaii's chefs and the used cooking oil will be recycled to produce our 100% renewable fuel – that's full circle sustainability!
Macadamia Nut Oil
Made with 100% Hawaiian macadamia nuts from farmers on Hawaii Island
A premium expeller-pressed oil
Use for high-heat cooking or flavorful finishing oil
Extremely high in Omega 7; a good source of vitamin E
Extremely shelf stable; use within 24 months of bottled date; keep in a cool, dark place.
Chefs Tell Us: Neat toasted nutty cacao flavor; delightfully complex; crazy flavorful; very impressive flavor. Learn more about what chefs are saying about our premium culinary oils in this video. Download free chef recipes featuring our Hawaiian Macadamia culinary oil.

Maui Sunflower Oil
The sunflowers are farmed by our company on Maui without pesticides, herbicides and no GMO crops
A premium, cold pressed and unrefined oil
Use for high-heat cooking or as flavorful finishing oil
Rich in Omega 9 (Oleic Acid) and Omega 6 (Linoleic Acid), which is an Essential Fatty Acid (EFA). EFAs are essential for normal functioning of all tissues in the body; they can't be made by the body and can only be obtained from food.
We suggest you use this freshly pressed oil within 6 months of bottled date; keep in a cool, dark place.
Chefs Tell Us: Fresh; clean taste; subtle sunflower seed scent and flavor; best sunflower oil I've ever tasted! Find out what chefs are saying in this video. Download free chef recipes featuring Maui Sunflower oil.

Other Notes About Our Oils:
Expeller pressed, filtered and bottled by our company on Hawaii Island
Vegan and free of Sodium, Sugar, Gluten, and Cholesterol
Can be heated up to 420° F
Our culinary oils are currently offered in bulk 1-gallon and 5-gallon sizes for restaurants and food manufacturers. The oils are also available in 12oz bottles for retailers. For wholesale pricing of these items, please contact us.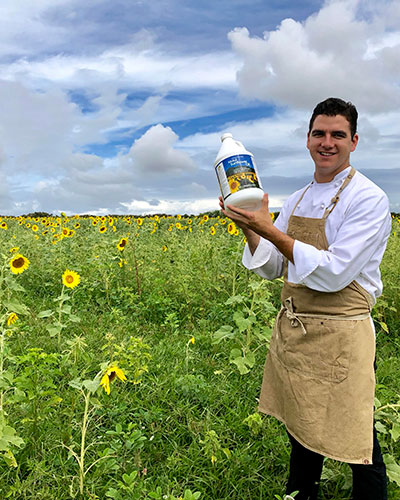 "I love the color and flavor of it. It has a great smoke point and is versatile to cook with. It has a nutty flavor, finishes nice and round with high aromatic notes of alfalfa. I also like the fact that it's from Maui and it's sustainable. When I visited the Pacific Biodiesel farm and walked through the sunflower field, it's sensory overload. You're smelling sunflowers, smelling that nutty richness. It's almost as if you're inside the bottle." –Executive Chef Taylor Ponte, The Mill House at Maui Tropical Plantation.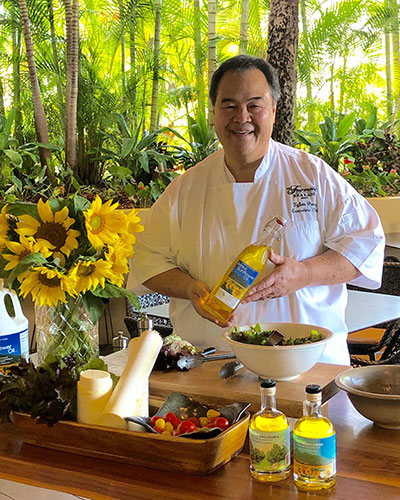 "At Fairmont Kea Lani, we're very conscious of what we bring in, where it comes from and the footprint it leaves on our planet. We use this cold-pressed Maui Sunflower Oil in our fresh dressings and stir fry dishes that we do for the restaurant. It's light and it's flavorful and it actually doesn't mask any of the local ingredients. It's like gold in a bowl. I actually think it's our Maui Sunshine. We call this Maui EV SO – extra virgin sunflower oil." –Executive Chef Tylun Pang of Kō Restaurant at Fairmont Kea Lani.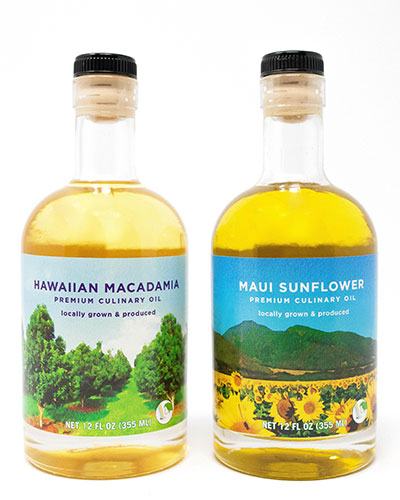 Click here for recipes featuring our locally made, premium culinary oils created by some of Hawaii's top chefs and graciously shared for you to enjoy.